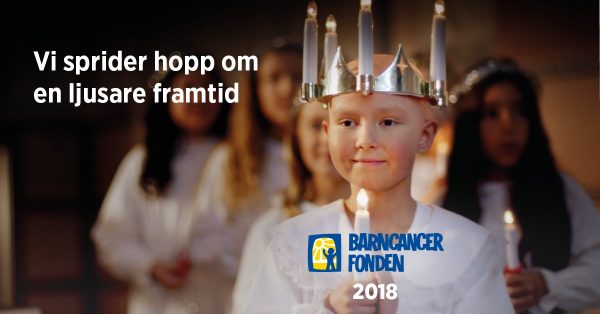 We can all spread some hope this Christmas – Support Barncancerfonden!
Spread some hope for a brighter future – Barncancerfonden (Children's Cancer Foundation). We wish our colleagues, customers, partners a Merry Christmas by donating a Christmas gift to Barncancerfonden this year to contribute to research and support the families affected.
The girl in the picture who is the main character in Barncancerfondens, Christmas campaign is Ebba. Ebba was nine years old when she suffered from leukemia, she is much better today just thanks to all the advances in childhood cancer research.
It is important that us companies that have the capacity go in and make difference that we can to all the amazing organizations working with research, charity etc. Small as a big gift, everything matters. Most organizations provide the opportunity for both companies and individuals to donate help as well as contribute, this also applies to Barncancerfonden. Do you want to spread some hope this Christmas – visit their Christmas store: https://www.barncancerfonden.se/jul/
About Barncancerfonden
Barncancerfondens vision is to exterminate childhood cancer. Barncancerfonden has been working since 1982 to help more children survive cancer, as well as helping affected families to get the care and support they need. Over the same period, survival has increased to about 80 percent, although childhood cancer is still the most common cause of death among children between 1 and 14 years in Sweden.
Hampus Carnemark, CEO at Infozone comments
It is valuable to us in Infozone that we can make a difference and that all the company feels involved by giving up a physical Christmas gift and instead donate to Barncancerfonden. We have also finished our Movember competition where we chose to donate money to the Prostate Cancer Foundation. I am urging all of my colleagues in the industry to let your employees spread hope. Unfortunately, we did not receive any applications for our Pink Band campaign this year to attract more women to apply to us and the IT industry.
We hope for change next year and that more women are applying to Infozone.
Colleagues, Customers, Partners & Readers We wish you a Merry Christmas from us at Infozone and together we spread hope this Christmas.