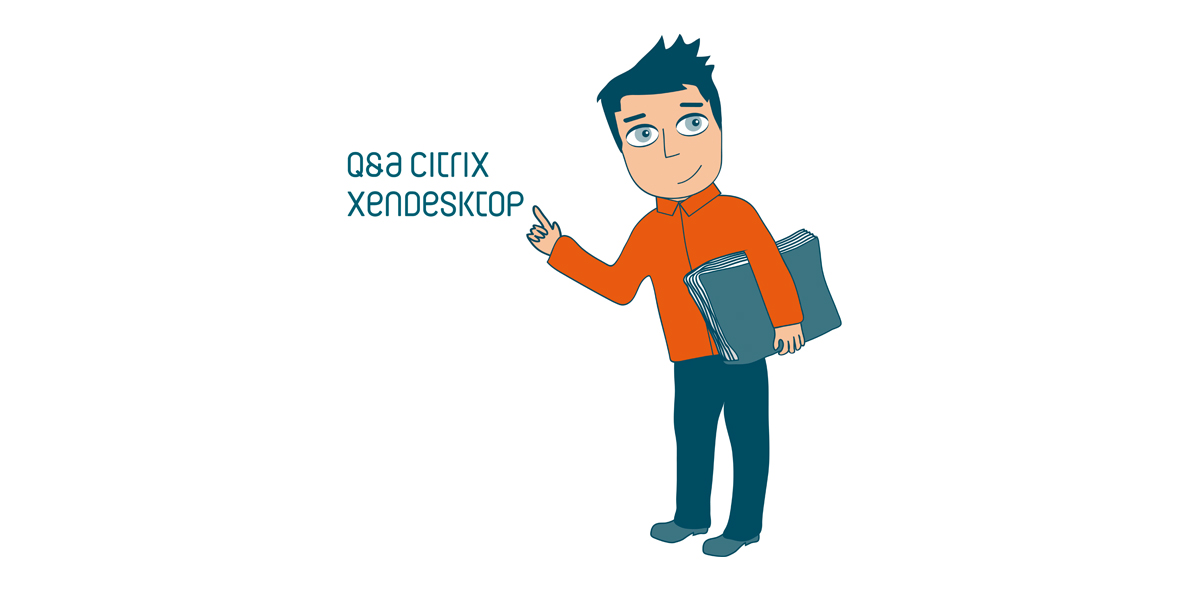 Q&A Citrix XenDesktop
Would you like to learn more about Citrix XenDesktop? In this Q&A we answer some of the most common questions that we encounter regarding Citrix XenDesktop – Deliver safely with Citrix XenDesktop!
WHEN IS CITRIX XENDESKTOP A GOOD ALTERNATIVE?
When your organization wants to deliver a high user experience for your users regardless of the device they are using.
When your organization wants an enhanced security and simplified central desktop and applications administration.
For organizations that uses CAD applications. Instead of installing your CAD applications on expensive workstations, you can move it for example to the cloud or the datacenter where the users gain access to the applications when they are in need of it, independent of geographical location and this still with the same or even better graphic performance.
When your organization needs a scalable Virtual Desktop Infrastructure (VDI) solution and wants to maximize the user experience with HDX technology.
WHAT VERSIONS IS THERE OF CITRIX XENDESKTOP?
VDI Edition
Enterprise Edition
Platinum Edition
HOW DOES IT WORK WITH CITRIX XENDESKTOP LICENSES?
As of today there are three different license models: User, device and concurrent.
User Licensing – When the user needs access to dedicated desktops. One user, several different units at the same time.
Device Licensing – When the user shares desktop. You still have your personal desktop but it can be shared from a virtual desktop. One unit at the time, but several users can use the desktop at the same time.
Concurrent Licensing – The license is assigned to a user when he logs on and then released when the same user logs off. This is independent of users as well as devices but you can only have one connection per license.
WHAT ARE THE BENEFITS WITH CITRIX XENDESKTOP AND IGEL?
IGELs thin client gives you a good performance and supports a large amount of functions and plugins. For example Skype4Business, CAD and 3D applications. With IGELs HDX optimization pack you can get your local accessories such as your webcam in your Citrix session for best performance. Another benefit with IGEL is that it can be used in kioskmode. Kioskmode means that the users only will be prompted the login screen to the StoreFront and will not be able do to anything locally on the thin client. Whit IGELs administration software, IGEL UMS you will be able to handle all of your IGEL thin clients centrally. So from only one place you can distribute your organizations settings to all of your IGEL clients.
Would you like to know more about Citrix XenDesktop and its benefits for your organization? Contact Örjan Pedersen, Infozone