We began our conference in the warmth of Orlando with teambuilding activities introducing both teams from the US and Sweden. After teaming up, it was time for us to see what this year's Qonnections had to offer. And let´s just say, we were not disappointed. Here is what was said at Qonnections, 2017.
The largest Qonnections in history kicked of Monday (15th of May) at the Gaylord Palms Convention Center in Orlando. Orlando invited us to amazing summer heat and a great atmosphere at the conference for both partners and customers. Infozone was a silver sponsor this year and we had the opportunity to meet with many exciting people at our booth.
News from Qonnections, 2017
Know it all know!
Lars Björk, CEO, Qlik opened Qonnections with his Key Note and he began with thanking all of the sponsors, partners, and clients for making Qlik successful. Lars also talked about their increased revenue during 2016 and how this was possible because of a big focus on innovation and the strategic collaboration with Qlik's new owners, Thomas Bravo.
Top 6 new features in Qlik Sense:
Converting QlikView Apps – Tools to automate the conversion from QlikView to Qlik Sense.
Visual Data prep for Developers – New functions to prepare your data in a more visual way.
New Charts and Color Intelligence – New visualizations and color functionality for better analysis and decisions.
Qlik GeoAnalytics – Improved maps with the possibility to visualize data in several layers.
Advanced Analytics Integration – Closer integration with Python and R (Statistic tools)
Mobile Offline – Qlik Sense mobile app provides access to your data and visualizations offline.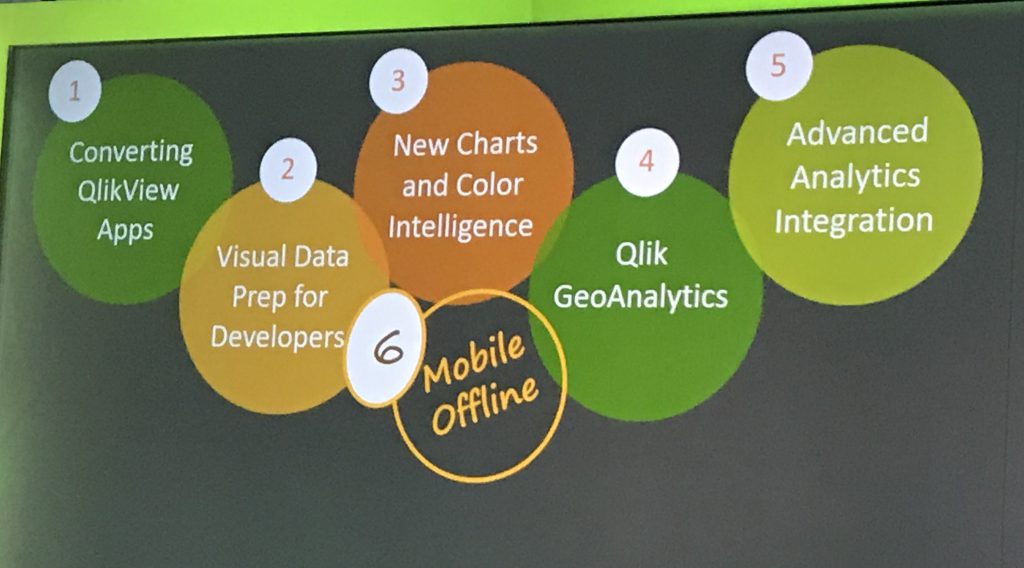 At the end of the opening session, Anthony Deighton, CTO presented three ideas for the future that is characterized by Qliks further development of products:
"Leave Data Where It Is"
Significant insights from more data sources and large amounts of data require efficient computing and management. To address the problem, Qlik has developed a revolutionary "Associated Big Data Index", enabling real-time calculation on Big Data the same way as normal data amounts can be explored. In other words, your data doesn´t have to be moved to Qlik; the Qlik engine will be located directly next to the data source.
"A True Hybrid Cloud Platform"
The majority of the market is moving closer and closer to the cloud. Qlik is working to establish a genuine hybrid platform with a smooth integration between infrastructure on-premise and infrastructure in the cloud.
"From BI to AI"
When Qlik talks about AI, they refer to it as "Augmented Intelligence", and not the frequently used "Artificial Intelligence". Unlike Artificial Intelligence, Augumented Intelligence doesn´t aim at a computer making decisions based on calculations and data interpretation but the computer is seen as a complement and support for human thinking, analysis, and planning.
Future decision support consists of a combination of Machine Learning, Data Science, Human experience, and Judgement
Curious to learn more about Qlik's focus to further development for the BI market or how you can benefit from their new products and features?
Contact me to book a meeting!

We provide Better BI by Design!